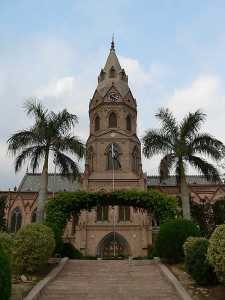 Old Ravians Union,
Pakistan is an elected body of former students of GC University, Lahore (previously known Government College Lahore). The Union was established in 1934 and revived in 1995. It is the only organization of Old Ravians which has affiliation of the GC University, Lahore therefore its office is situated in the Campus. Constitutionally, Vice Chancellor of the GCU, Prof. Dr. Asghar Zaidi is ex-officio patron-in-chief of the Union.
Mr. Syed Tayyab Hussain Rizvi, is President of the Union. All Old Ravians are eligible to apply for membership of the Union. Elections of its various offices take place biennially in the GCU Campus. However, next elections will be held in 2025.
The Union arrange intellectual, social, cultural and sports events where Old Ravians meet and interact. The Union work to assist and help the University in different fields. It is also an instrumental for collection of funds from the Old Ravians for GCU Endowment Fund Trust which is used to provide financial aid to deserving students and for development of the University. The Union has its affiliated chapters in Karachi, Islamabad, India, UK, US and Canada.